Sufjan Stevens (/ˈsuːfjɑːn/ SOOF-yahn; born July 1, 1975) is an American singer-songwriter and multi-instrumentalist. He first came to wider recognition with the 2000 album A Sun Came, which was released on the Asthmatic Kitty label he co-founded with his stepfather. He is perhaps best known for his 2005 album Illinois, which hit number one on the Billboard Top Heatseekers chart, and for the single "Chicago".
Stevens has released albums of varying styles, from the electronica of Enjoy Your Rabbit and the lo-fi folk of Seven Swans to the symphonic instrumentation of Illinois and Christmas-themed Songs for Christmas. Stevens makes use of a variety of instruments, often playing many of them himself on the same recording,[6] and writes music in various time signatures. Though he has repeatedly stated an intent to separate his beliefs from his music,[7][8] Stevens also freely draws from the Bible and Anglo-Catholic traditions,[9] often incorporating mystical elements into his music.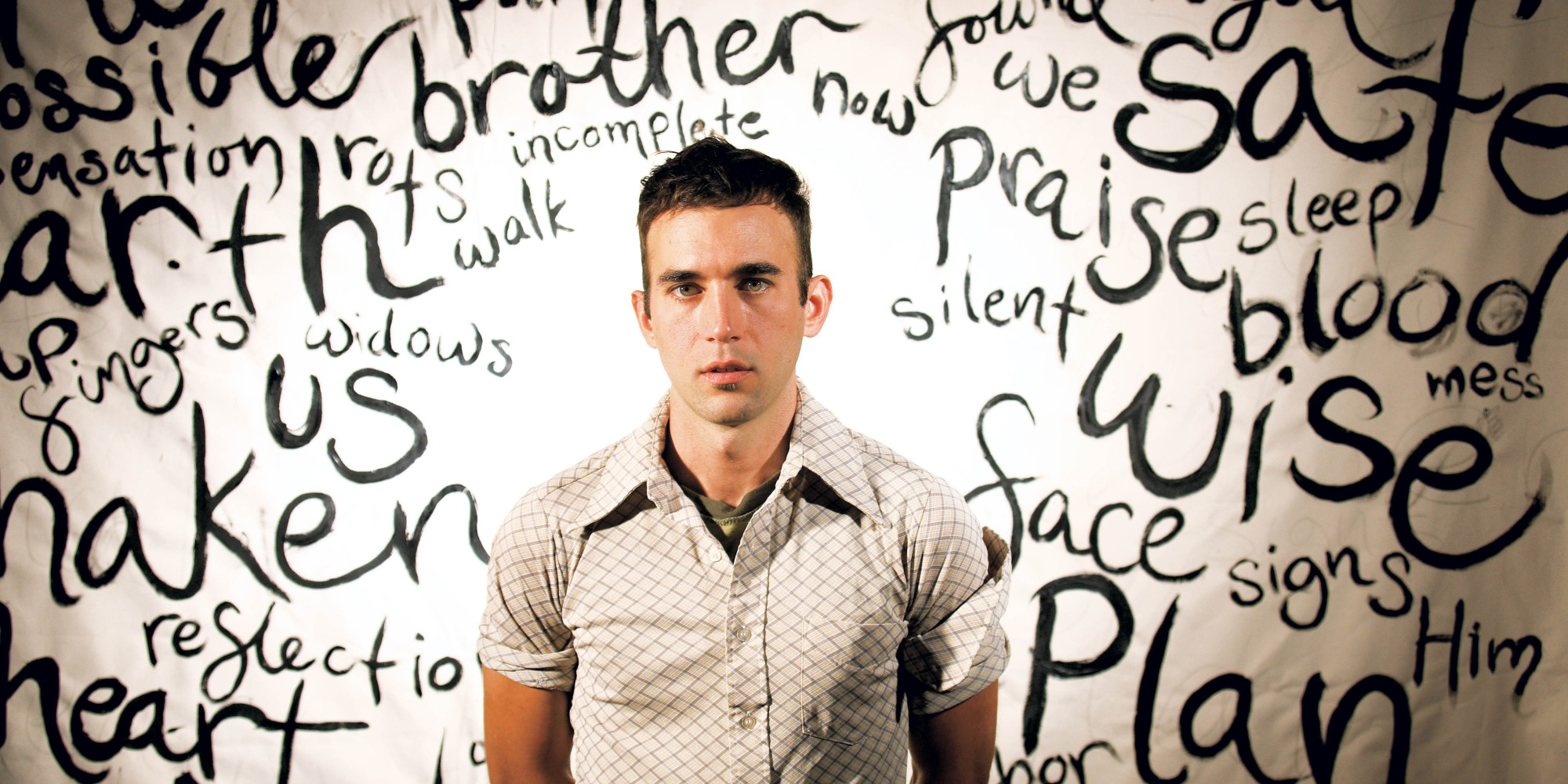 Early life
Stevens was born in Detroit, Michigan, and lived there until the age of nine, when his family moved to Petoskey, in the northern part of the state. He was raised by his father Rasjid and his stepmother, only occasionally visiting his mother, Carrie, in Oregon after she married her second husband Lowell Brams.[10] (Brams would later become the head of Stevens' record label Asthmatic Kitty).[10] He attended Petoskey High School, the prestigious Interlochen Arts Academy and graduated from Harbor Light Christian School. He went on to attend Hope College in Holland, Michigan, and earned a master of fine arts from The New School in New York City.[11]
Sufjan is an Arabic and Persian name[12] meaning "comes with a sword".[13] It predates Islam and most famously belonged to Abu Sufyan, a figure from early Islamic history. The name was given to Stevens by the founder of Subud, an inter-faith spiritual community to which his parents belonged when he was born.[14]
A multi-instrumentalist, Stevens is known for his use of the banjo, but also plays guitar, piano, drums, xylophone, and several other instruments, often playing all of these on his albums through the use of multitrack recording. While in school, he studied the oboe and English horn, which he also plays on his albums. Stevens did not learn to play the guitar until his time at Hope College.[15]
Stevens currently lives in Kensington, Brooklyn, in New York City,[16] where he makes up the Brooklyn staff of Asthmatic Kitty Records.[17] His brother Marzuki Stevens is a nationally recognized marathon runner.[18]
Career
Stevens began his musical career as a member of Marzuki, a folk-rock band from Holland, Michigan, as well as garage band Con Los Dudes.[15] He also played (and continues to play) various instruments for Danielson Famile. While in his final semester at Hope College, Stevens wrote and recorded his debut solo album, A Sun Came, which he released on Asthmatic Kitty Records.[15] He later moved to New York City, where he was enrolled in a writing program at the New School for Social Research. During his time at New School for Social Research, Stevens developed a preoccupation with short story that he believed would lead him to write a novel, but ultimately returned him to songwriting.[15]
While in New York, Stevens composed and recorded the music for his second album, Enjoy Your Rabbit, a song cycle based around the animals of the Chinese zodiac that delved into electronica.
Stevens followed this with the first album to be released as a part of his "Fifty States Project", a collection of folk songs and instrumentals inspired by his home state of Michigan. The result, the expansive Michigan, included odes to cities including Detroit and Flint, the Upper Peninsula, and vacation areas such as Tahquamenon Falls. Melded into the scenic descriptions and characters are his own declarations of faith, sorrow, love, and the regeneration of Michigan.
Following the release of Michigan, Stevens compiled a collection of songs recorded previously into a side project, the album Seven Swans, which was released in March 2004. Stevens did not leave his job in the children's book division at Time Warner until touring for Seven Swans.[15]
Next he released the second in the 50 states project, titled Illinois. Among the subjects explored on Illinois are the cities of Chicago, Decatur and Jacksonville; the World's Columbian Exposition of 1893, the death of a friend on Casimir Pulaski Day, the poet Carl Sandburg, and the serial killer John Wayne Gacy.
Over the 2005 winter holidays, Stevens recorded an album with Rosie Thomas and Denison Witmer playing banjo and providing vocals. In April 2006, Pitchfork erroneously announced that Stevens and Thomas were having a baby together, but were forced to print a retraction.[19][20][21] Witmer and Thomas later admitted it was an April Fools' prank.[22] In December 2006, the collaborative recordings were digitally released by Nettwerk as a Rosie Thomas album titled These Friends of Mine. The album was released in physical form on March 13, 2007.
On September 11, 2006, in Nashville, Tennessee, Stevens debuted a new composition, a ten-minute-plus piece titled "Majesty Snowbird".[23][24] On November 21, 2006, a five CD box set Songs for Christmas was released, which contains originals and Christmas standards recorded every year since 2001 (except 2004). Stevens undertook in the project initially as an exercise to make himself 'appreciate' Christmas more.[25] The songs were the work of an annual collaboration between Stevens and different collaborators, including minister Vito Aiuto; the songs themselves were distributed to friends and family.
In April 2007, in Brooklyn and Philadelphia, Stevens made unannounced appearances on Thomas's tour in support of this album. In 2007, he did a Take-Away Show acoustic video session shot by Vincent Moon standing on a roof in Cincinnati.[26] In 2007, he played shows sporadically, including playing at the Kennedy Center to celebrate the tenth anniversary of the Millennium Stage concerts.[27] He was commissioned by the Brooklyn Academy of Music to create a "music and film work" titled The BQE, described as "a symphonic and cinematic exploration of New York City's infamous Brooklyn-Queens Expressway".[28] It premiered at BAM's Next Wave festival on November 1–3, 2007.[29] Stevens has also worked as an essayist, contributing to Asthmatic Kitty Records' "Sidebar" feature and Topic Magazine.[30] He wrote the introduction to the 2007 edition of The Best American Nonrequired Reading, a short story about his early childhood education and learning to read titled How I Trumped Rudolf Steiner and Overcame the Tribulations of Illiteracy, One Snickers Bar at a Time.[31][32] That winter, he hosted an "Xmas Song Exchange Contest" in which winner Alec Duffy won exclusive rights to the original Stevens song "The Lonely Man of Winter." The track has never been uploaded, and can now only be heard by attending private listening parties at Duffy's home in Brooklyn.[33][34]
Stevens has contributed to the music of Denison Witmer, Soul Junk, Half-handed Cloud, Brother Danielson, Danielson Famile, Serena Maneesh, Castanets, Will Stratton, Shannon Stephens, Clare & the Reasons, and Liz Janes. In 2007 alone, Stevens played piano on The National's album Boxer, produced and contributed many instrumental tracks to Rosie Thomas's album These Friends of Mine, multiple instruments on Ben + Vesper's album All This Could Kill You and oboe and vocals to David Garland's 2007 album Noise in You.
He has contributed covers of Tim Buckley ("She Is"), Joni Mitchell ("Free Man in Paris"), Daniel Johnston ("Worried Shoes"), John Fahey ("Variation on 'Commemorative Transfiguration & Communion at Magruder Park"), The Innocence Mission ("The Lakes of Canada"), Bob Dylan ("Ring Them Bells") and The Beatles ("What Goes On") to various tribute albums. His versions of "Free Man in Paris" and "What Goes On" are notable for only retaining the lyrics of the original, as Stevens has taken his own interpretation on the melody and arrangement. His rendition of "The Star Spangled Banner" has a similar rearranged melody and arrangement as well as a whole new verse.[35]
His songs "The Tallest Man, The Broadest Shoulders" and "All the Trees of the Field Will Clap Their Hands" were featured in the 2006 British comedy-drama Driving Lessons, starring Harry Potter's Julie Walters and Rupert Grint. In 2008, he produced Welcome to the Welcome Wagon, the debut album of Brooklyn-based husband and wife duo Vito and Monique Aiuto, The Welcome Wagon.
In February 2009, Stevens contributed "You Are the Blood" to the AIDS benefit album Dark Was the Night produced by the Red Hot Organization. In April 2009, Stevens uploaded a song about director Sofia Coppola online.[36] This song was written while Stevens was in college, from a series of songs about names.

en.wikipedia.org/wiki/Sufjan_Stevens